It is easy to fall in love with grasscloth wallpaper. Why because it is elegant and timeless. It has been used for hundreds of years.
The beauty of grasscloth wallpaper is stunning on small-scale projects or wide and open areas. Grasscloth wallpaper is available in an array of lovely colors and will adds incredible texture and dimension to your space.
It's not just trendy and grasscloth has stood the test of time. You still can find it in historical home and palaces around the world.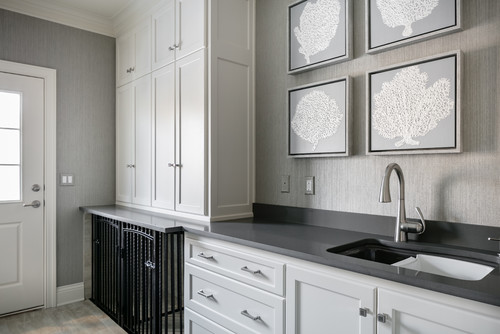 I love the use of this neutral grasscloth wallcovering in a laundry/mudroom room. It adds so much depth to the room and makes the small room appear larger.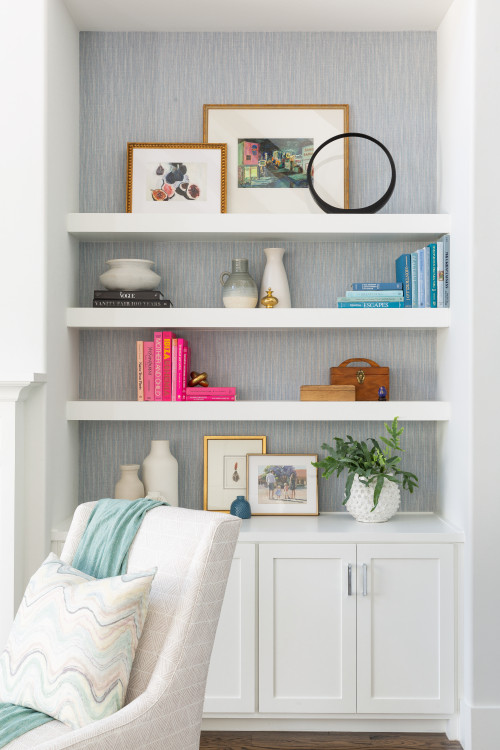 Bookcases are the perfect to grasscloth wallpaper to add a pop of color to your room. You can see by adding the grasscloth to the background, the items on the bookcase stands out.
Shea, McGee & Co. added a neutral color of grasscloth to her bookshelves in her home. I have long admired her casual designs for homes.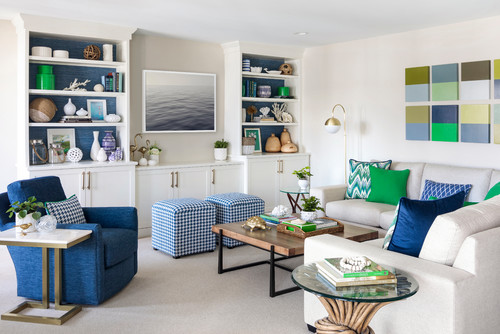 I love the use of this dark blue grasscloth in built-in bookcases. It was similar to the what I had in mind for my own project.
what is grasscloth wallcovering?
Grasscloth wallcovering is made from hand-woven strands of natural fibers on an unpasted rice paper backing. The fibers include hemp, jute, seagrass, arrowroot grass, bamboo and raffia. It is a hand-made wallcovering. This type of wallcovering is also more labor intensive.
why is grasscloth wallpaper more expensive?
Grasscloth is more expensive due to the labor involved to process it. Remember it is hand-woven from natural fibers.
How durable is grasscloth wallpaper?
Grasscloth Wallpaper is very durable due to the natural fiber. It will wear better than vinyl or printed paper wallcoverings over time.
what is an alternative to grasscloth wallcovering?
There are faux grasscloth wallcoverings that are vinyl. It has the look and feel of real grasscloth. It is not as luxurious as the real fiber grasscloth. The faux works beautifully if you are on a budget.
updating a cabinet with faux grasscloth wallcovering
My collection of white ironstone seems to get lost in this cabinet. It was too tone-on-tone in my room.
To make it pop, I wanted to add grasscloth wallcovering to the back of the cabinet. A similar look to the bookcases in the inspiration photos.
I opted to use a budget friendly faux grasscloth wallcover for two reasons: 1) the cost; and 2) peel and stick. The peel and stick option was perfect so it could be removed later. It would not damage this Arhaus cabinet.
If I was wallpapering a room, I would definitely go with real fiber grasscloth.
This Arhaus Chorus Theory Cabinet is a favorite of mine. It is why I did not want to paint it or add something permanent to decrease it's value.
Arhaus sells the Chorus Theory Cabinet( cream no longer available) in three different colors (on sale now). It stands 91.25″ in height; 54.75″ in width and 19″ depth. You need tall ceilings for this cabinet.

Affiliate links are used for your convenience at no additional cost to you. It helps to support my blog so that I can bring you more free tutorials. Thank you! Read my full disclosure here.
Click on any of the photos below to take you to where to purchase them.

empty out the cabinet & clean
For starters, the cabinet was emptied out. Then all of the items were given a good cleaning. The shelves were wiped down to remove any dust.
cut the wallpaper
You should carefully measure the width and height of the space. Add 2 inches to your measurement for height and width. It will give you enough extra to line up and trim off the extra. You do not want to cut your wallcovering to short.
adding the faux grasscloth
I found it easier to remove the backing first. Next line up the wallpaper to the top of the cabinet back. With your hand to smooth down the top. Use the wallpaper tool to smooth out the paper to the back. It will remove any air bubbles. You can use your hand too to smooth out the surface.
Look at this gorgeous texture. It has strands of metallic silver in it too. The light catches in the middle photo. You would not know it is faux until touching it.
Use a razor blade to trim the extra paper from the bottom and sides.
Confession time! I was 20 inches shy of completely the top shelf back. Can you believe?
Thankfully, I ordered another roll that arrived in 2-days. Thank goodness! Yes, I was able to finish it. It looks amazing.
the finished project
She turned out amazing. Now the white ironstone collection pops against the navy blue. The ironstone no longer looks washed out.
The color ties in nicely with my home décor and the blue dining chair adjacent to this cabinet.
What do you think?
you may love
I would love to have you subscribe to my newsletter. You can follow me over Facebook at White Lilac Farmhouse, on Instagram @whitelilacfarmhouse, on LTK at white_lilac_farmhouse, Pinterest, YouTube, Tiktok, and Hometalk.
Hope you have a great, sweet friend!