Do you love Reese's Peanut Butter Eggs at Easter? I have a delicious homemade chocolate covered peanut butter eggs recipe.
My dear friend, Carol at Blue Sky At Home is hosting myself and other talented ladies to bring you some wonderful spring inspiration.
If you have come over from my friend Laura from Everyday Edits, thank you. Laura has the most beautiful spring flower arrangement ideas.
For those of you that are new, I am Tammy. Welcome to my home called White Lilac Farmhouse. You will see that my style is a blend of old items with new. With my husband and two French Bulldogs, we live in the southern part of Maryland. Not far from the water.
PIN IT!
Homemade Chocolate Covered Peanut Butter Eggs
One of my favorite things around the holidays is to make homemade candies or bake goodies.
Reese's Peanut Butter Eggs during the Easter holiday are my absolute favorite. It is a favorite of my husband, children and grandchildren too.
A couple of years ago, I was determine to create a recipe that taste like the real deal. I believe these chocolate covered peanut butter eggs does the trick.
I love my recipe. The chocolate peanut butter eggs are delicious yet not super sweet. They are sweet and creamy not overly sweet like other recipes. They are rich so careful eating too many at one time.
These homemade Reese's Peanut Butter Eggs dupes are wonderful gifts for family and friends. You can put a basket of them individually wrapped on a table.
This year, I am using this same recipe but making smaller versions of them. Wouldn't smaller ones look beautiful wrapped in pastel color foil? Try something different.
Homemade Chocolate Peanut Butter Eggs
This is my favorite recipe that has been tweaked over the year to get the right amount of chocolate and peanut. You will love these homemade chocolate peanut butter eggs.
Equipment
Kitchen Aid Mixer

Large Egg Shaped Cookie Cutter

Optional

Silicone Egg Candy Molds
Ingredients
3

cups

powdered sugar

1 1/2

cups

creamy peanut butter

I love Jiffy's Brand for this recipe.

1/4

cup

butter melted

2

tbsp

Half and Half Creamer

or Milk could be substisubstituted

2

bag

Ghirardelli milk chocolate chips 11.5 ounces each

Do not use semi-sweet chocolate.

2

tbsp

Crisco Vegetabl Shortening

not the oil, use the shortening
Instructions
Beat together powdered sugar, peanut butter, and melted butter together. Slowly add in two tablespoons of half and half creamer and continue to beat until dough begins to soften. Do not over beat your dough.

On a lightly floured surface, roll the dough out to ½" thickness. Use an egg-shaped cookie cutter of your choice to cut out the eggs. The size of your cookie cuter will determine the how many peanut butter eggs you will yield.

Place eggs on a cookie sheet and put in the freezer for approximately 45 minutes to an hour.

For dipping the eggs in chocolate, you will need to add 2 TBS of Crisco Shortening and two bags of milk chocolate chips into a double boiler and stir until well melted. You need to constantly stir so you do not burn the chocolate.

Lay out along sheet of wax paper or aluminum foil enough for 12 large eggs or 24 smaller eggs.

For the large eggs, place the cookie cutter on the wax paper and poured in some of the melted chocolate (approximately 2 tbs).

Next carefully add the peanut butter egg on top the chocolate. I used a spatula to move the eggs. Now add two tablespoons of melted chocolate on top of the peanut butter egg.

Carefully remove the cookie cutter and repeat until all 12 aredone. You will need to work fast because the chocolate needs to stay hot. The chocolate should flow down on the egg. If not, you can dip a knife in chocolate and cover the sides.

Option: The silicone candy molds are the fastest way to go. You will add about a tablespoon of melted chocolate in the center of each egg in the mold. Working fast so the chocolate does not set, move the silicone mold around to evenly coat the walls and bottom of the eggs.

Next you will need to cut you peanut butter in smalls that will fit into the mold. Drop the peanut butter egg into each mold.

Now top the peanut butter with chocolate to completely fill the egg.

Let this set for 2 hours or place in the refrigerator for one hour than pop them out of the mold.

Using clear 4 x 6 cellophane treat bags, place either a large egg or a few smaller eggs and tie with grosgrain 3/8-inch color of your choice. I am using some in a beautiful turquoise color. You can also get the adhesive cellophane bags and add an Easter sticker to the front of the bag.

It make approximately 12 large eggs or 24 smaller eggs with the silicone candy molds listed in my blog post.
Notes
These Homemade Peanut Butter Eggs make wonderful gifts. My family and friends rave about them. Try adding drizzled white chocolate or a color chocolate in a pastel color over the eggs.
The Chocolate Peanut Butter Eggs can also be wrapped in food safe candy foils.
Be sure to stop over to see my good friend and fellow Marylander, Regina at Saved From Salvage. She is sharing 9 beautiful spring tablescapes ideas with us.
more spring inspirations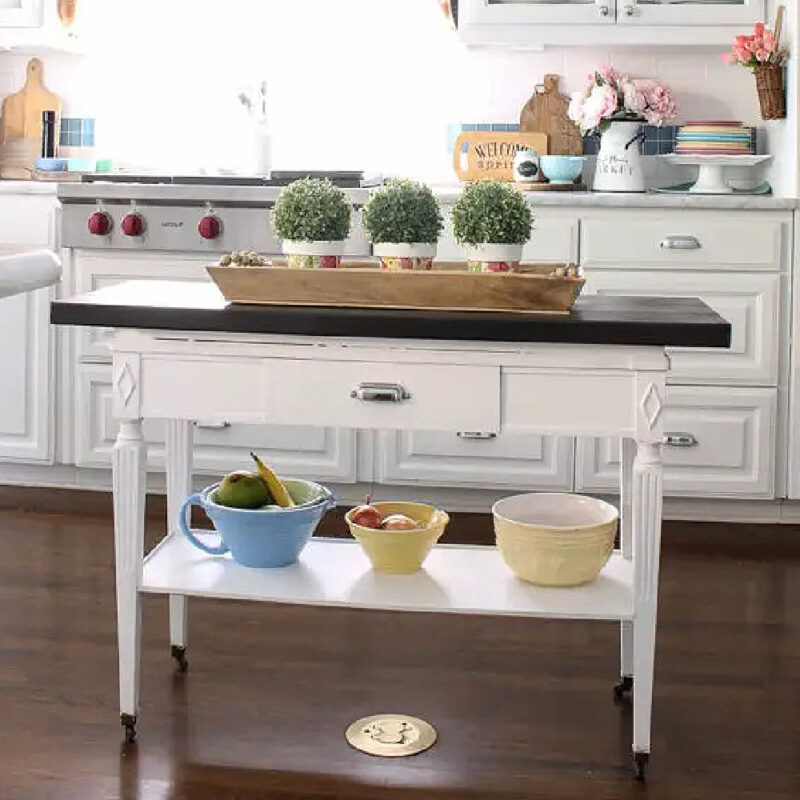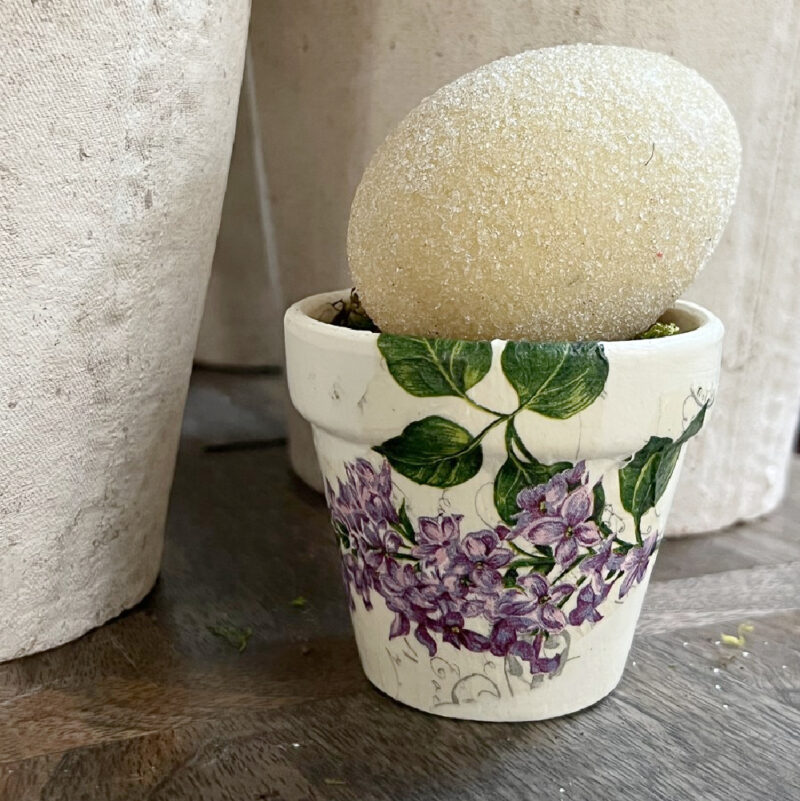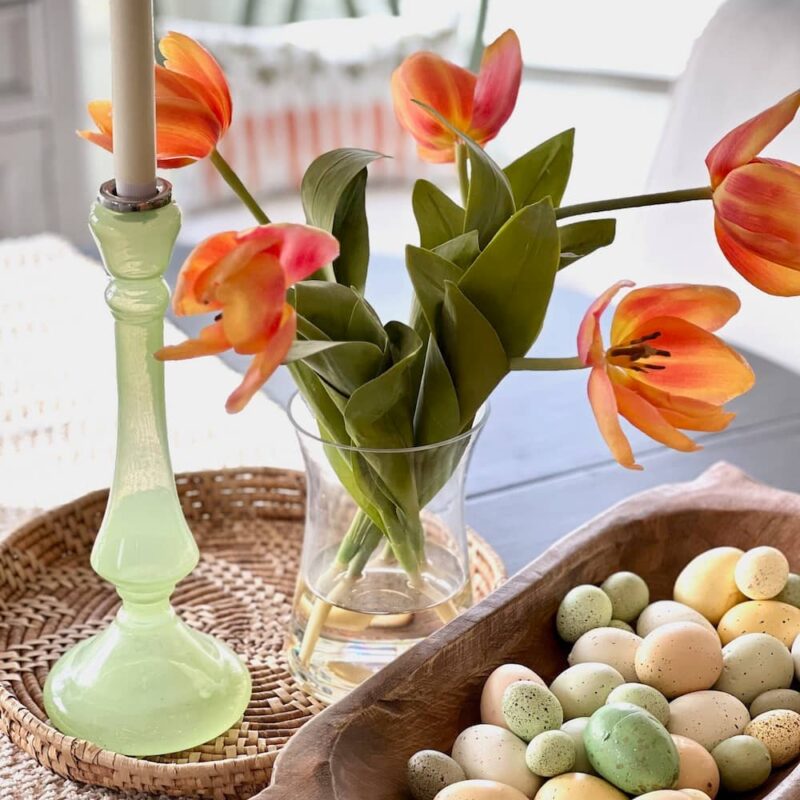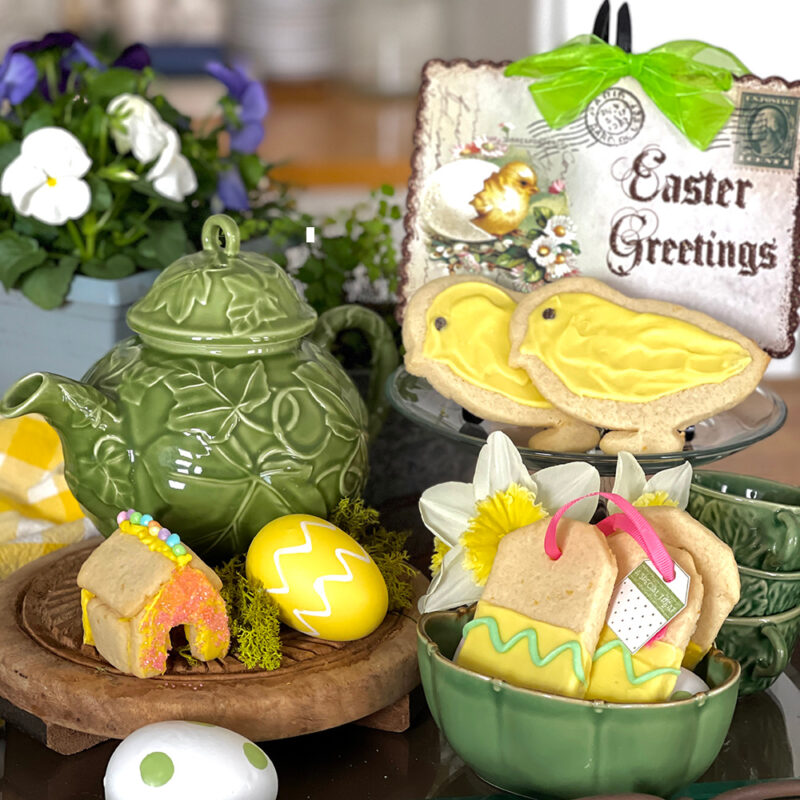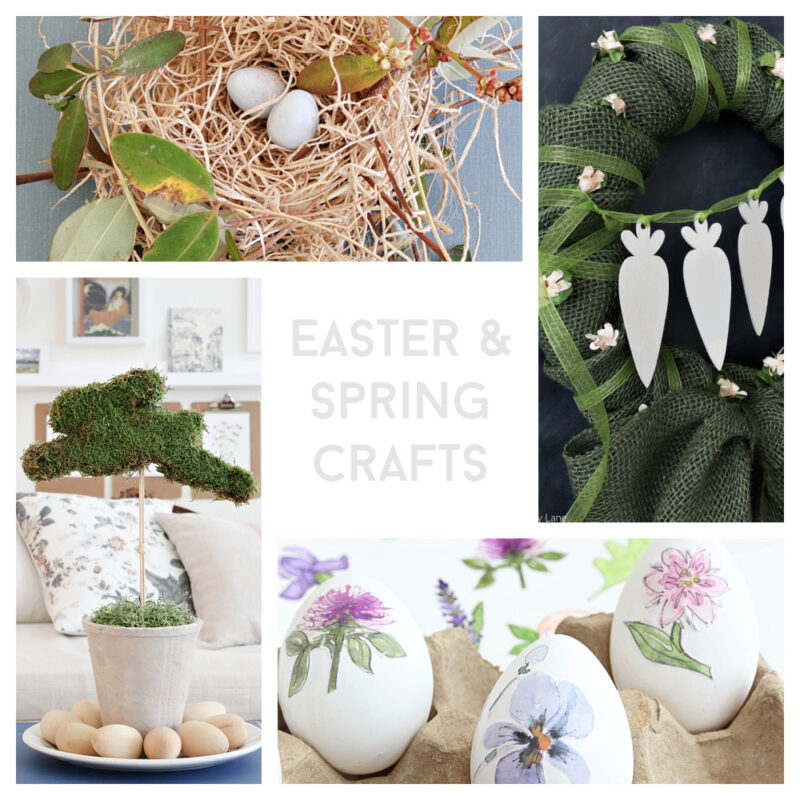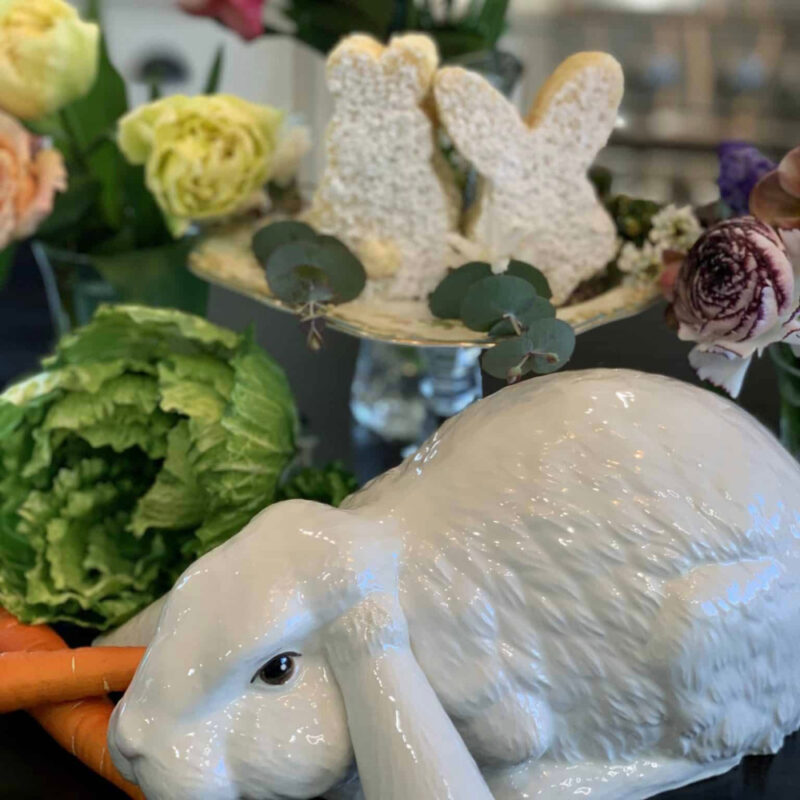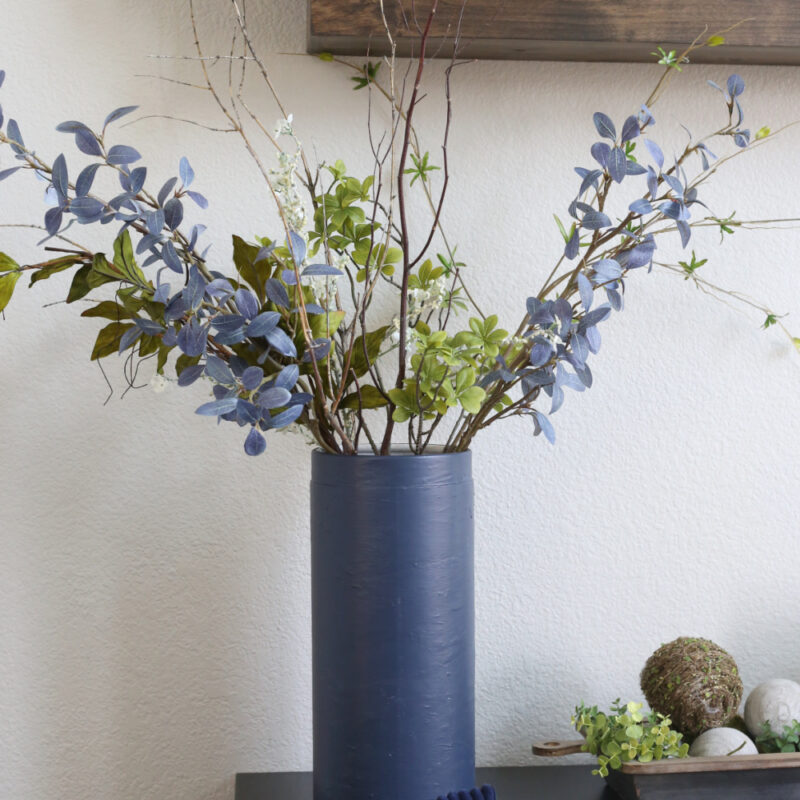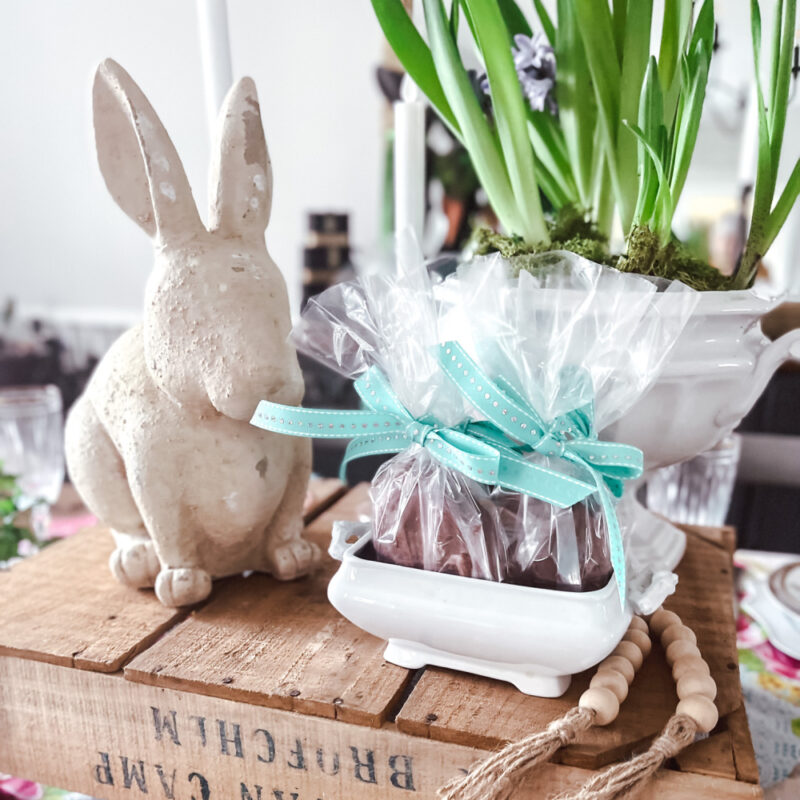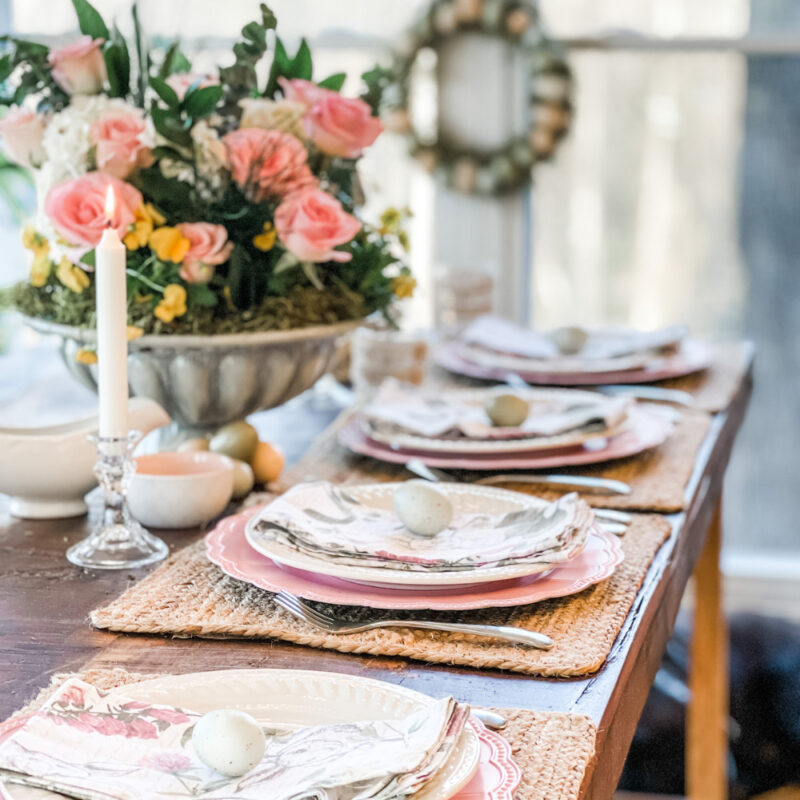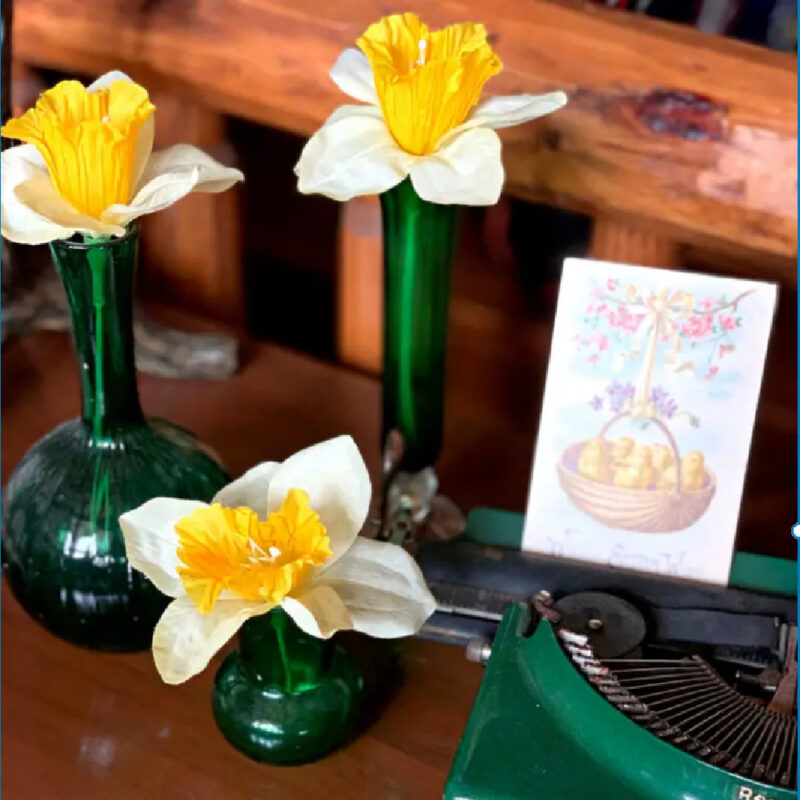 you may love
Let's be friends!
I would love to have you subscribe to my newsletter. You can follow me over Facebook at White Lilac Farmhouse, on Instagram @whitelilacfarmhouse, on LTK at white_lilac_farmhouse, Pinterest, YouTube, Tiktok, and Hometalk.
Hope you have a wonderful day, sweet friend!