It is easy to make your own items for you home. It saves money too! Let me show you how to make easy Patriotic home decorations.
My dear friend, Carol at Blue Sky At Home is hosting myself and other talented ladies to bring you some wonderful Memorial Day inspiration.
Be sure to read all the way to the end of the post for all of the great ideas from my friends.
If you are coming over from my dear friend, Carol from Bluesky at Home, welcome! She has great Patriotic outdoor decorations.
What is Memorial Day? It is a U.S. federal holiday that is celebrated the last Monday of May. The purpose of the holiday is to honoring the men and women who died while serving in the U.S. military.
This year Memorial Day will be observed on Monday, May 29, 2023. You will find many businesses are closed as well as Federal and State government.
Why is Memorial Day important? Memorial Day began as a way to honor those who died in the Civil War to fight for freedom. It has become a day to honor all American Veterans who have sacrificed their lives for our freedom and for their country.
As we all begin to celebrate with our family and friends, it is important to recognize our fallen men and women. Every year, I decorate my front porch in their honor including our fallen four-legged friends.
HOW TO MAKE EASY PATRIOTIC HOME DECORATIONS – Patriotic Wreath Tutorial
1. PROJECT SUPPLIES
Affiliate links are used for your convenience at no additional cost to you. It helps to support my blog so that I can bring you more free tutorials. Thank you! Read my full disclosure here.
24″ Grapevine Wreath
1 bunch of white flowers of choice
1 bunch of red flowers of choice
4 Yards of Wire Ribbon of Choice
Floral Wire
Scissors
Small Cutting Pliers
Hot Glue Gun and Glue Sticks

2. Cut your flowers
With a pair of wire cutters, you are going to cut the flower stems. You need to make sure you leave enough of the stem to add hot glue and tuck into the wreath. You will also cut the leaves or pull them of the stems. We will be using some of the leaves too.
3. Hot glue the florals to the grapevine Wreath
Next, you should lay the flowers around the grapevine wreath to get an idea of where to place the flowers and leaves. If satisfied with the design, you will move the flowers on the side of the table in order.
With your hot glue gun, begin to glue down the leaves and flowers.
You will continue to glue the flowers down.
With this wreath, the texture of the grapevine is lovely. Try leaving some of it bare.
4. Add a bow
With the ribbon make a large bow for your wreath. Next, take your bow and place to one side of the wreath with floral wire.
5. Add Wire or twine to hang your wreath
To the back of the grapevine, you can tied a piece of twine or use wire for hanging the wreath. The twine is nice because it will not scratch the glass on my door.
Here is my patriotic wreath in red, white and blue. This beautiful wreath is perfect for Memorial Day, Fourth of July and Veteran's Day.
It took me 20 minutes to complete this project. If I can make a beautiful wreath, you can too!
Easy Patriotic Pillow Tutorial
This patriotic pillow is fun, very simple and easy to make for your home.
Affiliate links are used for your convenience at no additional cost to you. It helps to support my blog so that I can bring you more free tutorials. Thank you! Read my full disclosure here.
1. PROJECT SUPPLIES
Cotton Pillow Cover
Pillow Insert
Large Star Stencil
Tacky Spray Adhesive
Piece of Cardboard
Red Embroidery Thread
Embroidery Needle
Embroidery hoop (optional)
Scissors
Old Tea Towel
Iron
2. Iron Pillow Cover
Find an old piece of cardboard to slide under your pillow cover. Here a gift box bottom was slid to protect the bottom cover from any bleed through from the paint. You can iron your pillow cover first. However, we will be ironing it later to set the paint.
3. STENCILING
I selected the large star for my project. You can use painters tape to hold down the stencil. I prefer to use Krylon's Easy-Tack™ Repositionable Adhesive. It's a great item to have for your craft projects. You just take the stencil outside and spray the back of the stencil. Allow it to see for a couple of minutes and you can use it on project. It gives adheres great!
The trick with stenciling is a little paint goes a long way! With fabric it is going to absorb the paint faster. You need to grab a old piece of cardboard or paper plate and spoon a little bit of paint onto it.
Next using a chip brush, begin to stroke the paint onto the fabric. Do not be heavy handed. You can always go back over a select to add more paint.
My has more of a worn look to it. It is a matter of preference. The paint color is Deep Sea by Dixie Belle Paint Company. You can purchase it here. This paint is not just used for furniture. There are so many options. You can see how I use Dixie Belle's paints on some of my other craft projects.
4. OUTLINING YOUR STAR – RUNNING STITCH
You can leave your pillow with just the painted star or outline it. Using several strands of 498 Dark Red Embroidery thread, you will need to cut the thread to the desire length. Next, you will knot one end of the strand.
Here is where an embroidery hoop comes in handy . Put your star image in the embroidery hoop. A small 3″ hoop would be fine and you can reposition it as necessary.
Begin the running stitch by poking your threaded needle up through the wrong side of the fabric.
Poke the needle back down through the fabric next to where you just came up, and pull the thread down into your first stitch.
Now poke your needle back up through the fabric, leaving a space from the previous stitch. Then poke the needle back down through the fabric again making your second stitch.
Repeat until you have outlined the entire star. It really is an easy stitch for us "no sew gals".
5. HEATING SETTING YOUR STENCIL ON THE FABRIC
To preserve the paint on the fabric, we will need to heat set it.
Turn your iron on using the silk setting. You need to make sure it is set to dry with no steam. Once the iron has heated up, place a thin cloth over top of the image. Try using a thin cotton tea towel.
Run your iron over the tea towel several times where the stenciled images are located. Turn your iron off and remove the tea towel. Allow the pillow cover to cool before handling it.
It is ready for a pillow insert and to style it!
6. CARE
You can machine wash your pillow cover in cold water. Lay flat to dry. Avoid placing in the dryer. Always remove the pillow insert before washing your cover.
7. CLEANING YOUR STENCIL
The stencils clean up easily with soap and water. Try using Dawn Dish Detergent, warm water and a soft cloth. Gently rub to remove the paint and the adhesive without tearing your stencil. You want to be able to save your stencil to use again later.
PATRIOTIC STAR PILLOW
Now you have a fun accent pillow that you can use in your home. Here my sweet star pillow is on a vintage bench on our front porch with some other pillows.
finished projects
It is always fun to coordinate everything together. The porch has Patriotic home decorations at a fraction of the cost of store bought items. Plus, I find it is always fun to make your own items.
As we decorate for Memorial Day, remember it is a special day to remember those who have served our country and sacrifice their life for it. We pay homage to our fallen service men, women and US Service Dogs (often over looked). It is why the French Bulldog in the photo has a ribbon to represent our four-legged friends.
Shop Patriotic DÉCOR
Click on any of the photo below for the link to where to purchase.

PIN THIS!
Stop over to my good friend, Wendy from WM Design House. Wendy has the best ideas for holidays along with a stunning home.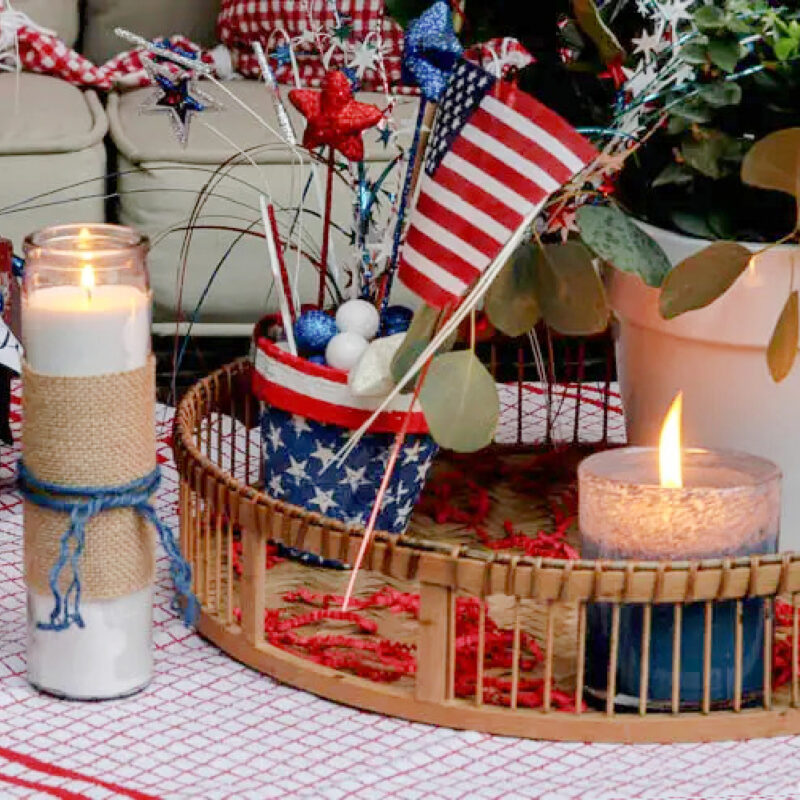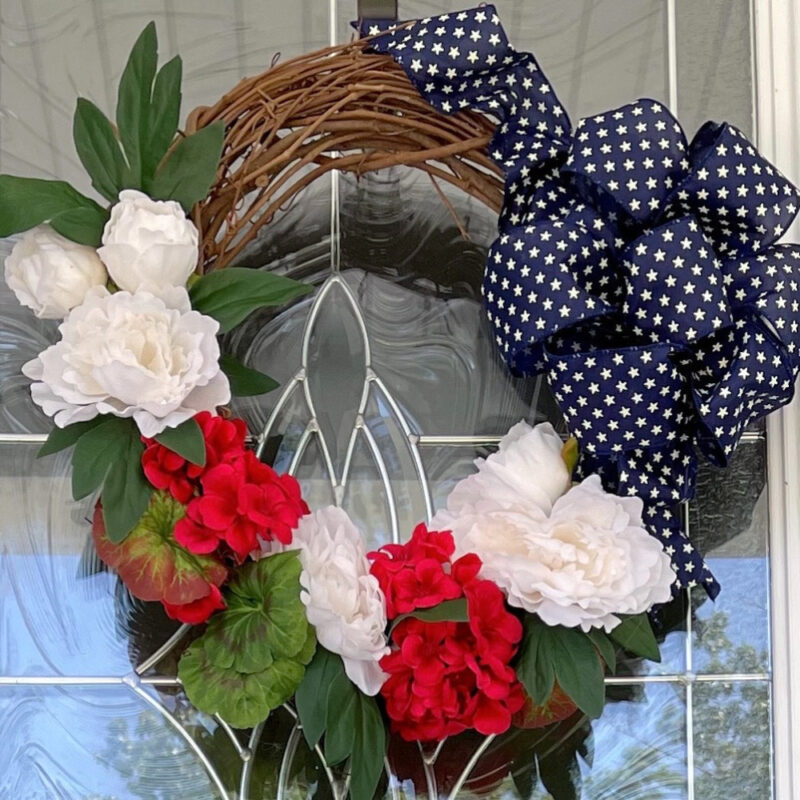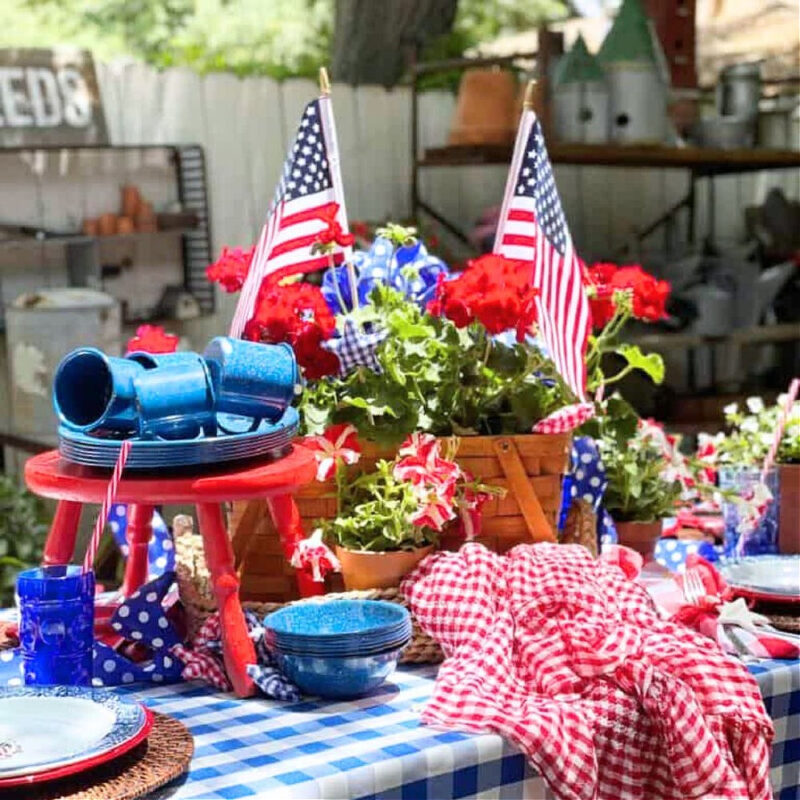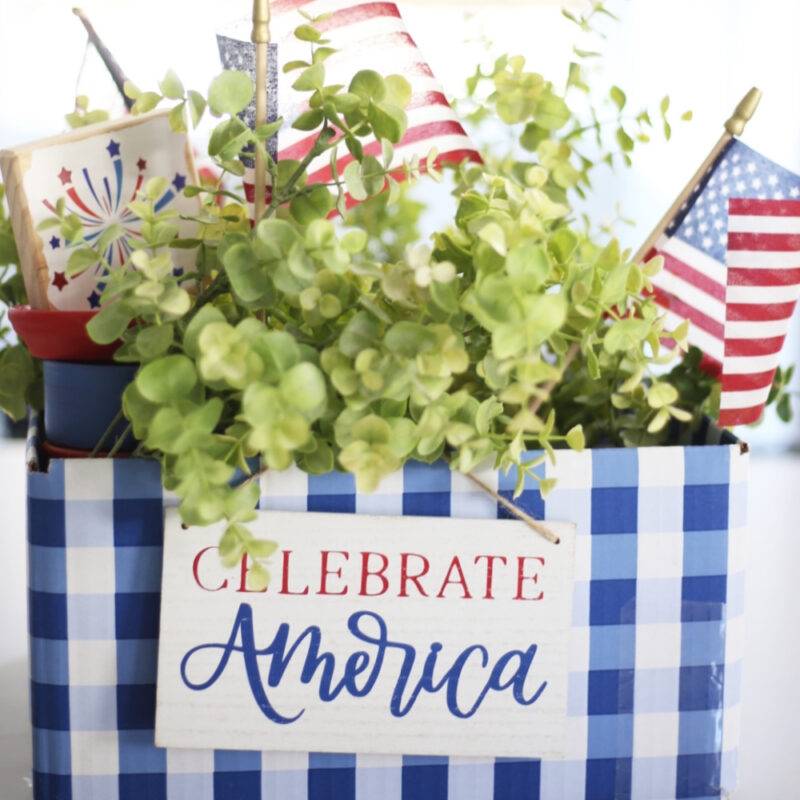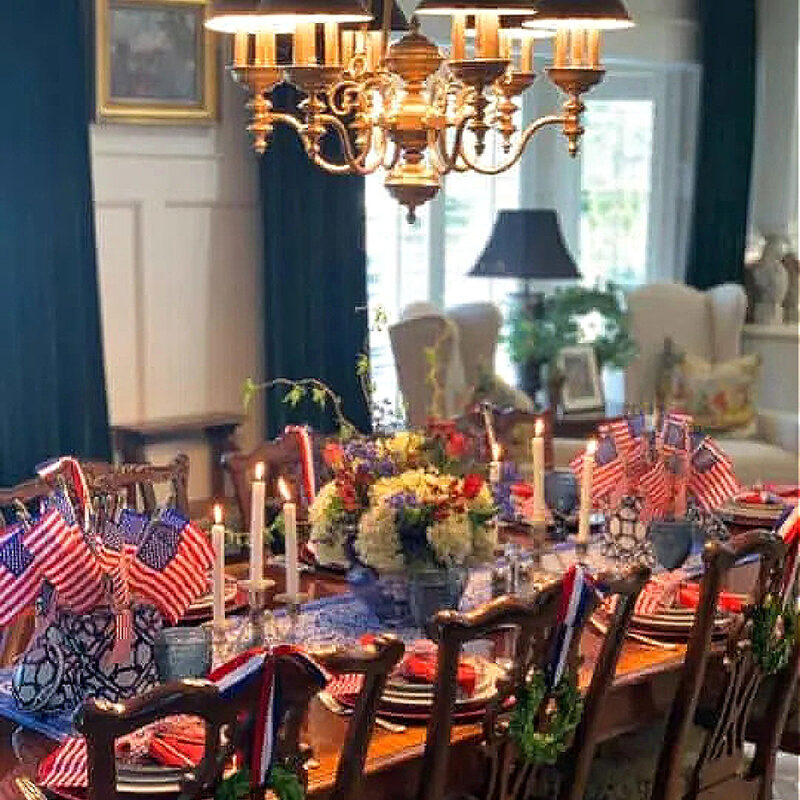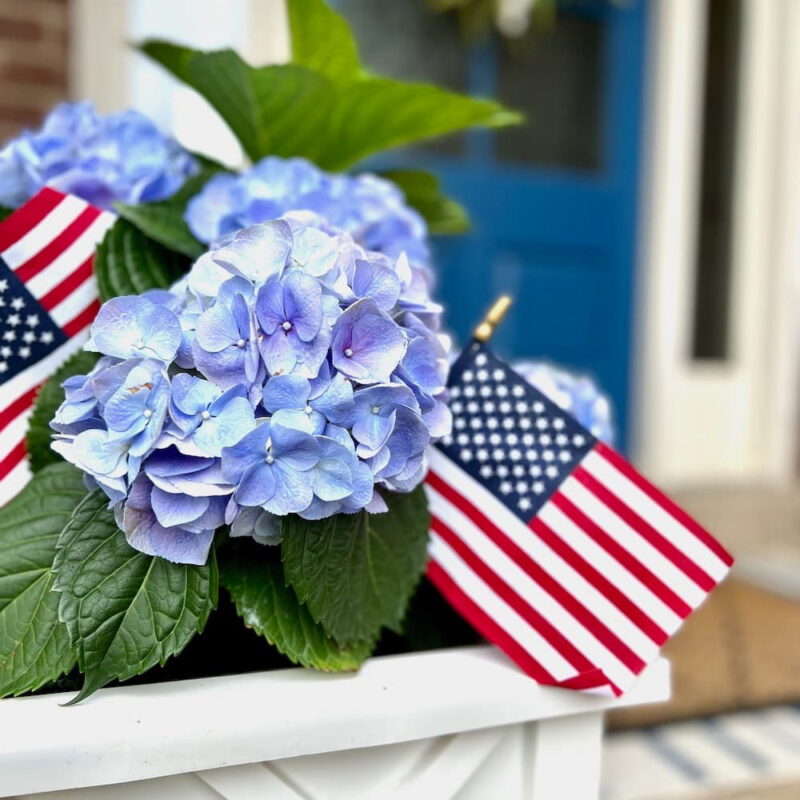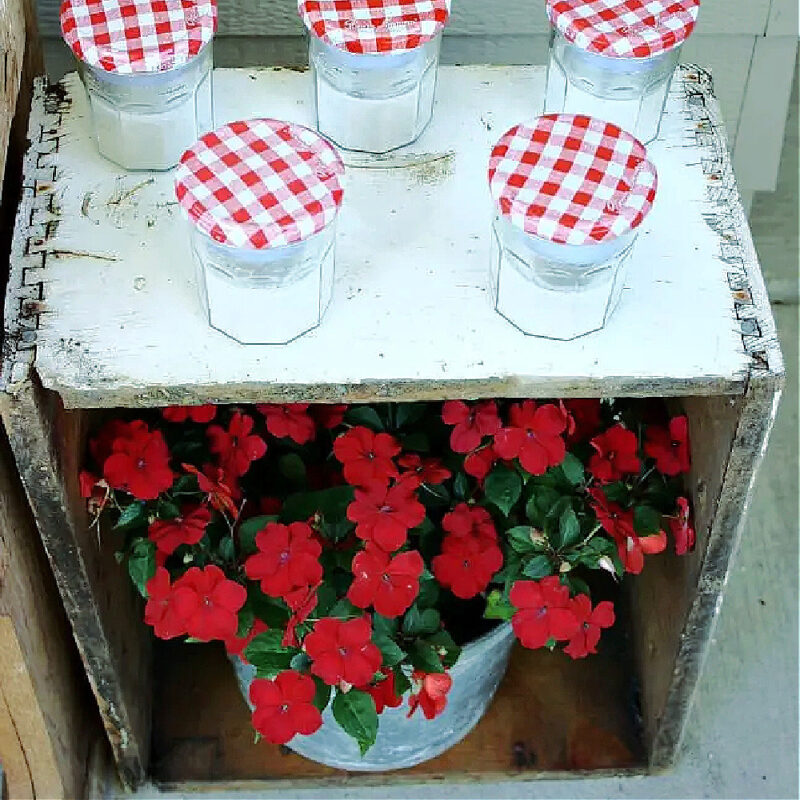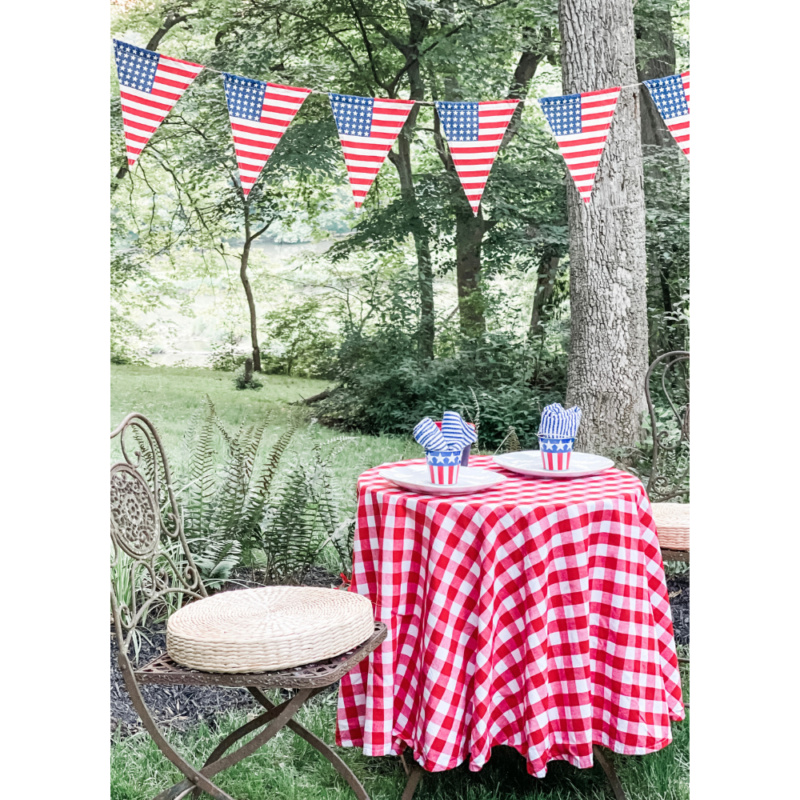 Please visit the other Memorial Day ideas for red, white and blue inspiration from these other home and decor bloggers!
Hope you enjoyed these fun and easy Patriotic home decorations and all of the Memorial Day inspirations.
Enjoy your day, sweet friend!